Our Complete Guide to Massage Tables
As a massage therapist, you know that your massage table makes all the difference. Massage Tools carries a wide range of massage tables and other equipment. Learn more about massage tables today.
What Is a Massage Table?
Massage therapists use massage tables to position their clients during a session. A high-quality massage table can provide you and your client with numerous benefits. There are several types of massage tables that you can purchase that have different features.
Types of Massage Tables
The type of massage table you pick depends on your needs and clientele. Let's discuss the three types of massage tables we sell.
Portable Massage Tables
Portable massage tables are a great option for those who want to take their talents on the road. You can offer your clients massages in your office, at their home, or in another location. Our portable massage tables easily fold into a handheld container that's easy to put in the trunk of your car.
There are many features you can experience with this type of massage table, such as:
Optional bolster for added comfort

2-1/2" thick multilayered semi-firm form

Ultrasoft face cushion

Half Reiki/half standard endplates

Dual Maple headrest outlets

Non-slip traction pads
Our portable massage tables include a push button height adjustment and adjustable face cradle. This feature allows you to customize each session based on your client's needs.
We carry portable massage tables from reputable brands, such as:
Electric Massage Tables
Electric massage tables are a great choice because you can easily raise and lower the table at the touch of a button. They're more accessible than other types of tables for all types of people. Some of the benefits you can experience with our electric massage tables include:
Increased staff convenience

Advanced technology will improve your technique

Update your equipment and offer better services
We offer many types of electric massage tables in various styles. Check out the Custom Craftworks electric massage table that comes in multiple colors. The Touch America massage table can be inclined, helping you get better access to your clients.
Stationary Massage Tables
Stationary tables provide massage therapists with benefits for in-office use. These can include:
Sturdy and durable design

Enhance the professionalism of your office
Aura Deluxe and Aura Basic stationary massage tables are two of the leading options on the market. The prices of these stationary tables are slightly higher than portable tables. However, it's worth the investment if you don't plan on traveling with your table.
There are many colors to choose from, including:
Black

Brown

Beige

Tan

Navy Blue
Some of the features these tables include are:
3.5" foam

Open shelf storage

Solid beech wood frame

Rounded corners
Massage Tools carries many brands in our massage warehouse, including:
Each brand includes unique features to improve your client's comfort.
What Are the Benefits of a Massage Table?
Whether you run a spa or massage therapy business, having a massage table can help you attract customers. Giving your clients a massage in a chair or on the floor can be uncomfortable. Having a massage table enables you to treat them on a surface that feels comfortable.
Other benefits of purchasing a massage table include:
Increased relaxation for your clients

You can easily perform different types of massages

Your client will be stable during their session
Our massage tables offer luxurious comfort and advanced features that you can advertise to potential clients. Some of these include:
Headrests

Adjustable height ranges

Comfortable PVC-free urethane upholstery
Our high-quality materials and design give your clients luxurious comfort and relaxation during their spa experience. Another benefit of a massage table is that they have an impressive weight capacity. Licensed professional massage therapists and at-home bodywork enthusiasts can enjoy the massage tables we offer.
At Massage Tools, we carry different types of massage tables. Some of our most popular ones include portable, stationary, and high-density foam tables.
Features to Look for in a Massage Table
There are specific things you need to consider when choosing a massage table. These tables are an investment, so you want to ensure you choose the correct one.
Weight Capacity
The weight capacity is the total amount of weight that your table can easily hold. This includes your client's weight and the pressure you'll be putting on it while you work. You'll also want to consider the added weight from accessories, such as blankets and bolsters.
Most massage tables can support a weight of at least 500 pounds. Some exceed 750 pounds.
The weight capacity of a massage table is a crucial aspect. It ensures that your table can withstand the demands of your clients. It also means you can open up your services to more people.
Adjustable Height Range & Headrests
Having adjustable headrests and height range in massage tables is important so you can cater to various clients. The adjustable height range of a table can help with the following:
Easy access on and off the bed

Accommodating the preferences of the masseuse and the needs of the client
Hydraulic tables adjust your client to a position where you can apply better static pressure on the muscles. It also helps your body mechanics.
An adjustable headrest will assist you in the following ways:
Posture correction

Neck support

Client comfort
Not every adjustable headrest will fit into each kind of massage table. Make sure that the adjustable headrest you choose will fit into your table. Some of the most common types include:
Standard headrest

Basic adjustable headrest

Quick lock adjustable headrest

Curve headrest
Quality Materials and Design for Client Comfort
Your massage table won't help your business if it's made from low-quality materials that start to break down within a few months of purchasing it. High-density foam, quality wood, and soft fabrics can make a huge difference in your table's comfort level.
Other features that can enhance client comfort include:
Height adjustability

Adjustable headrests

Shelf storage

High load capacity
Your massage table is one of the first things your clients encounter before their massage. You want to make a great first impression by choosing a high-quality massage table. Positively influence the type of experience they have.
Massage Tools FAQ
What if something goes wrong or breaks after I receive it?
Massage Tools is a manufacturer-authorized dealer of all the products on our website. If you experience any issues with an item, we will help coordinate your warranty repair requests with the item's manufacturer. Product-specific warranty information, including coverage and duration information, is also available on most product pages. If you have any questions about the warranty for an item, please contact us.
How do I know how a product will fit or look in my room?
The dimensions of each item are given on the item's product page. If you are building out a room in your business, a Massage Tools product expert can assist with product selection and floor map designs. Below is an example.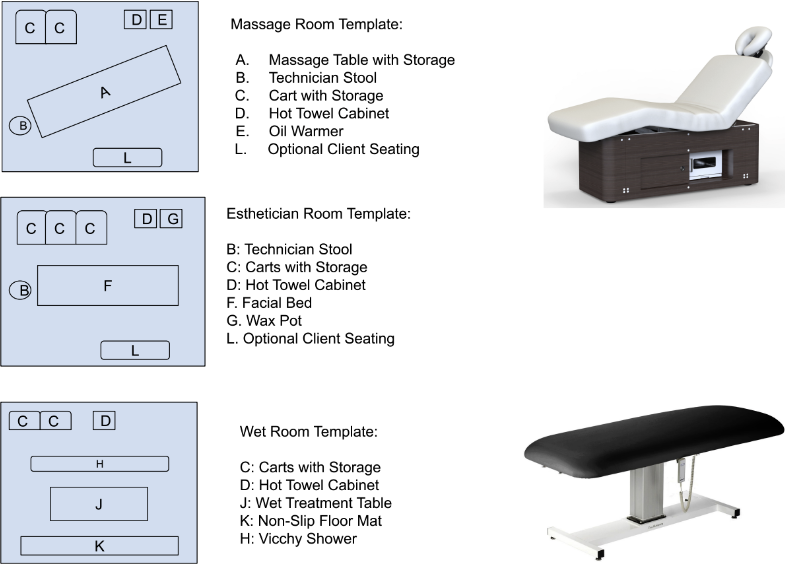 What if I can't find something I'm looking for?
Massage Tools is adding new products daily and we offer some items without a product page, such as replacement parts for massage tables and electric exam chairs. If you can't find what you're looking for, please contact us so we can help find a solution for you.
How does price matching work?
Massage Tools will match the shipped price before tax on identical items offered elsewhere. Please contact our sales team for a price match quote.
When will I receive my item?
Every product page has a delivery countdown clock that shows when you can expect to receive that product. Your order might contain several items with different estimated delivery dates, depending on each item's availability and whether it is carried in stock or made-to-order.
How does delivery work?
After you place your order, you will receive an order confirmation email. Additionally, every time an item in your order ships, you will receive a shipping confirmation email containing tracking information, which will provide an estimated delivery date on the tracking page. Items weighing more than 100 pounds, including most electric massage tables and medical exam chairs, ship via freight service. Please see the "Large Items Shipping Information" on the relevant product page for more details on freight delivery.