Create an environment that makes both your stylists and your clients happy with professional hair salon chairs from MassageTools. Our collection of high-quality and affordable styling chairs includes a variety of designs, features and price points to accommodate any salon owner's needs. We stock only well-made chairs from trusted name brands to ensure that you get chairs that are designed to hold up beautifully for years to come, even in the busiest hair salon settings. Shop now to see a wide range of salon chair options and find the ideal fit for your needs.
Massage Tools FAQ
What if something goes wrong or breaks after I receive it?
Massage Tools is a manufacturer-authorized dealer of all the products on our website. If you experience any issues with an item, we will help coordinate your warranty repair requests with the item's manufacturer. Product-specific warranty information, including coverage and duration information, is also available on most product pages. If you have any questions about the warranty for an item, please contact us.
How do I know how a product will fit or look in my room?
The dimensions of each item are given on the item's product page. If you are building out a room in your business, a Massage Tools product expert can assist with product selection and floor map designs. Below is an example.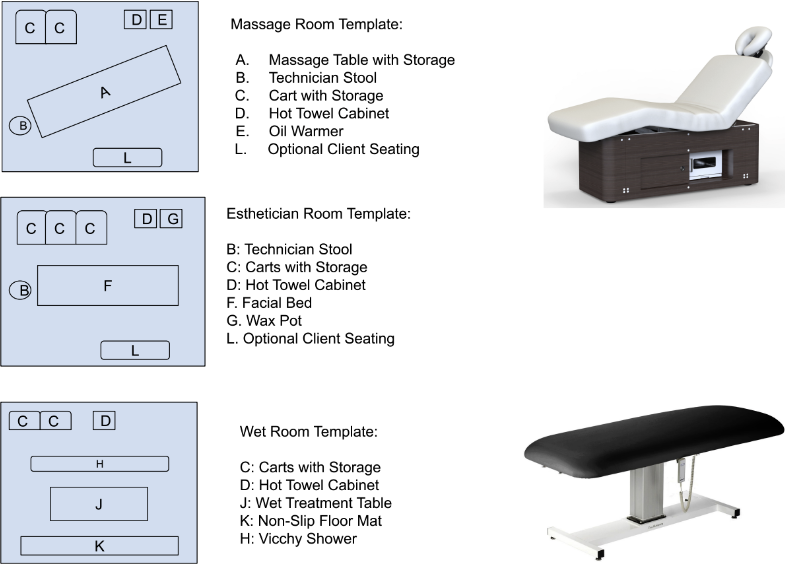 What if I can't find something I'm looking for?
Massage Tools is adding new products daily and we offer some items without a product page, such as replacement parts for massage tables and electric exam chairs. If you can't find what you're looking for, please contact us so we can help find a solution for you.
How does price matching work?
Massage Tools will match the shipped price before tax on identical items offered elsewhere. Please contact our sales team for a price match quote.
When will I receive my item?
Every product page has a delivery countdown clock that shows when you can expect to receive that product. Your order might contain several items with different estimated delivery dates, depending on each item's availability and whether it is carried in stock or made-to-order.
How does delivery work?
After you place your order, you will receive an order confirmation email. Additionally, every time an item in your order ships, you will receive a shipping confirmation email containing tracking information, which will provide an estimated delivery date on the tracking page. Items weighing more than 100 pounds, including most electric massage tables and medical exam chairs, ship via freight service. Please see the "Large Items Shipping Information" on the relevant product page for more details on freight delivery.