Chiropractic clinics and physical therapy clinics rely on certain chiropractic massage tools to treat patients. For clients and patients, getting on a medical table can be intimidating. But with a comfortable table and a welcoming atmosphere, you can help them get the care they need. The MassageTools inventory is filled with basic, mid-range and luxury products to serve clinics at any stage or size. This selection of chiropractic, physical therapy, ultrasound and general exam tables offer cushioned surfaces to put your patients at ease. Meanwhile, they include great features which allow health care professionals perform to the best of their ability. These are padded tables with soft but supportive cushioning. As essential chiropractic massage tools, medical tables are often very versatile and adjustable. Most of these table have adjustable features for the height and positioning. Some can even be brought up to a seated position. From our ultrasound exam tables by Earthlite to our electric therapy exam tables by Oakworks, you'll find options for chiropractic massage tools from some of the most trusted brands in the industry when you shop at MassageTools. Our selection includes both stationary and portable medical tables with built-in wheels. For practitioners who make home visits, we also have portable medical tables with optional headrests and carrying cases.
Massage Tools FAQ
What if something goes wrong or breaks after I receive it?
Massage Tools is a manufacturer-authorized dealer of all the products on our website. If you experience any issues with an item, we will help coordinate your warranty repair requests with the item's manufacturer. Product-specific warranty information, including coverage and duration information, is also available on most product pages. If you have any questions about the warranty for an item, please contact us.
How do I know how a product will fit or look in my room?
The dimensions of each item are given on the item's product page. If you are building out a room in your business, a Massage Tools product expert can assist with product selection and floor map designs. Below is an example.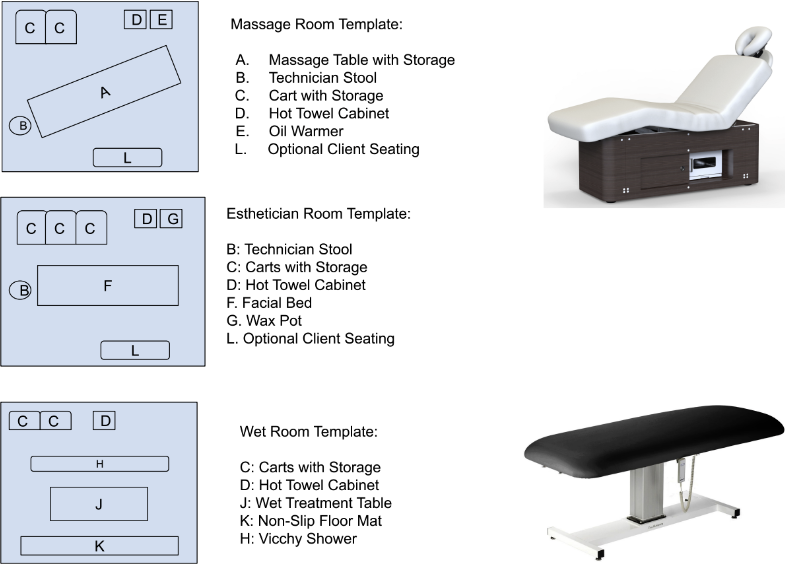 What if I can't find something I'm looking for?
Massage Tools is adding new products daily and we offer some items without a product page, such as replacement parts for massage tables and electric exam chairs. If you can't find what you're looking for, please contact us so we can help find a solution for you.
How does price matching work?
Massage Tools will match the shipped price before tax on identical items offered elsewhere. Please contact our sales team for a price match quote.
When will I receive my item?
Every product page has a delivery countdown clock that shows when you can expect to receive that product. Your order might contain several items with different estimated delivery dates, depending on each item's availability and whether it is carried in stock or made-to-order.
How does delivery work?
After you place your order, you will receive an order confirmation email. Additionally, every time an item in your order ships, you will receive a shipping confirmation email containing tracking information, which will provide an estimated delivery date on the tracking page. Items weighing more than 100 pounds, including most electric massage tables and medical exam chairs, ship via freight service. Please see the "Large Items Shipping Information" on the relevant product page for more details on freight delivery.