Tackle house calls and office visits with ease when you use a portable massage table from MassageTools.com. Our collection of portable massage table models includes a variety of designs from which to choose, allowing you to pick and choose the features you need to provide the best services for your clients. These tables allow you to take your talents anywhere and expand your business in new ways.
MassageTools offers the best portable massage tables for your business. Understand what makes a good portable massage table and choose the right one for you today.
What Is a Portable Massage Table?
A portable massage table is a foldable table designed specifically for massage treatments. It is an essential piece of massage equipment for any massage therapist.
With its sturdy construction and easy setup, this table can turn any space into a massage station in minutes. It's a valuable tool for massage therapists, enabling them to extend their services.
Benefits of Using a Portable Massage Table
Using a portable massage table provides many benefits for you and your clients:
Home Service Potential
A portable massage table allows you to bring your services directly to your client's homes. It's a huge advantage for those who prefer or need home-based treatments.
Office Therapy Sessions
Ever considered offering office massage sessions? A portable table makes it possible, helping you provide relief to busy professionals right at their workplace.
Lightweight & Easy to Transport
Portable tables, like the Earthlite - Luna Massage Table Package, are easy to carry. Their lightweight design means you can take them anywhere. This makes them perfect for house calls or events. Plus, their compact size and foldability mean they can easily fit into a car.
Adjustable Height
Portable tables come with adjustable heights. They cater to a range of different client sizes and therapist preferences.
Cost-Effective
Portable tables, like the Stronglite - Shasta Portable Massage Table Package, can be surprisingly affordable. They're a cost-effective investment, especially when considering the potential for increased client reach.
Materials Used in Portable Massage Tables
The quality of a portable massage table relies heavily on the materials used:
Quality Foam
Quality foam is the essential layer of comfort in a portable massage table. It is the material clients feel directly under their body when lying down on the table. Choosing a table with high-quality foam padding can boost client satisfaction.
This foam should offer the client a delicate balance between firmness and softness. This ensures maximum comfort throughout the massage session.
The firmness of the foam is key to supporting the client's weight. Its softness provides a cushiony feel, enhancing the overall massage experience.
High-Density Foam
High-density foam has compact cells that make it more supportive than regular foam. It molds well to the client's body shape, ensuring a tailored fit for each client, no matter their body type.
This type of foam is also known for its resilience. It withstands pressure and can bounce back to its original shape even after use by many clients. This assures long-lasting service with consistent quality.
Actual Leather/Synthetic Material
The final layer of the table is its exterior covering, typically crafted from actual leather or synthetic materials. This layer plays a dual role - it serves as a protective barrier for the foam underneath and offers a comfortable, non-stick surface for clients.
Real leather brings a touch of luxury and is highly durable, but it may need more maintenance and care. On the other hand, synthetic materials like vinyl are often preferred for their ease of cleaning, water resistance, and cost-effectiveness.
The exterior layer is also the first thing a client notices about your table. So choosing a table with a visually pleasing and comfortable-to-touch exterior can help create a positive initial impression on your clients.
Characteristics to Consider When Buying a Portable Massage Table
Consider the following characteristics when purchasing a portable massage table:
Client Comfort
When choosing a massage table, ensure the padding is thick and soft enough to provide a comfortable experience for your clients. The surface material should be smooth and inviting.
Pressure Distribution With Downward Pressure
An essential factor to consider is how well the table can distribute pressure. This is particularly important when applying downward pressure during deep tissue massages, etc.
A quality table should be able to handle this pressure without shaking, squeaking, or moving. This will allow you to work effectively and confidently.
Uneven pressure distribution can lead to client discomfort. It can also make it difficult to perform effective massage techniques. The frame and structure of the table are critical for this aspect.
Look for a table that features a sturdy frame and high-quality construction materials. This will ensure both stability and proper pressure distribution, creating a good experience.
Order a New Portable Massage Table Today
Elevate your massage business with portable massage tables and portable massage chairs from Massage Tools. Deliver exceptional comfort and convenience to your clients, wherever they may be. Shop from our selection of the best portable massage tables today.
[Shop Now]
Massage Tools FAQ
What if something goes wrong or breaks after I receive it?
Massage Tools is a manufacturer-authorized dealer of all the products on our website. If you experience any issues with an item, we will help coordinate your warranty repair requests with the item's manufacturer. Product-specific warranty information, including coverage and duration information, is also available on most product pages. If you have any questions about the warranty for an item, please contact us.
How do I know how a product will fit or look in my room?
The dimensions of each item are given on the item's product page. If you are building out a room in your business, a Massage Tools product expert can assist with product selection and floor map designs. Below is an example.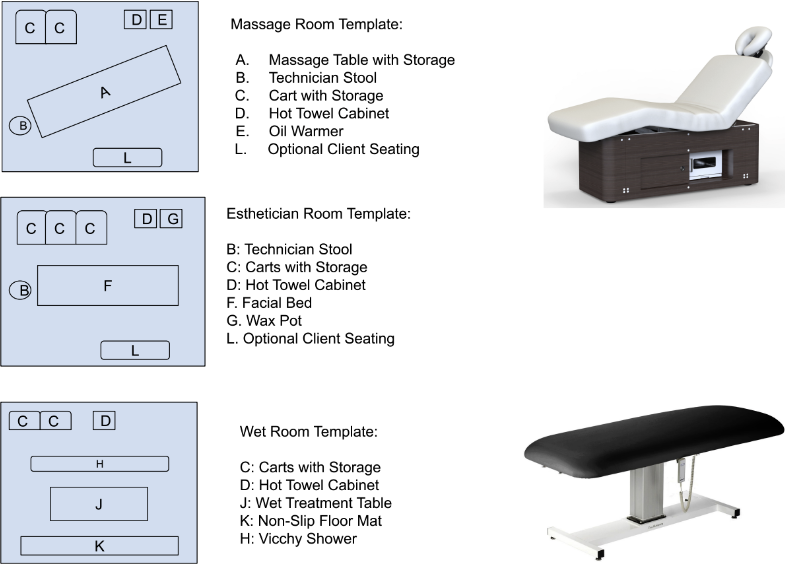 What if I can't find something I'm looking for?
Massage Tools is adding new products daily and we offer some items without a product page, such as replacement parts for massage tables and electric exam chairs. If you can't find what you're looking for, please contact us so we can help find a solution for you.
How does price matching work?
Massage Tools will match the shipped price before tax on identical items offered elsewhere. Please contact our sales team for a price match quote.
When will I receive my item?
Every product page has a delivery countdown clock that shows when you can expect to receive that product. Your order might contain several items with different estimated delivery dates, depending on each item's availability and whether it is carried in stock or made-to-order.
How does delivery work?
After you place your order, you will receive an order confirmation email. Additionally, every time an item in your order ships, you will receive a shipping confirmation email containing tracking information, which will provide an estimated delivery date on the tracking page. Items weighing more than 100 pounds, including most electric massage tables and medical exam chairs, ship via freight service. Please see the "Large Items Shipping Information" on the relevant product page for more details on freight delivery.