Finding better ways to relax isn't always easy, but aromatherapy is one of the few methods that work for a significant portion of people. With the Natural Collection from Aromaland, massage therapists are able to incorporate essential oil blends into their massages in order to create a more luxurious experience. The presence of certain odors that have been carefully selected by a massage therapist can help to release tension and increase the positive effects of massage therapy. Meanwhile, many clients like to use some of these Aromaland lotions and oils at home in order to enjoy some of the same benefits in between their massage appointments.
Massage Tools FAQ
What if something goes wrong or breaks after I receive it?
Massage Tools is a manufacturer-authorized dealer of all the products on our website. If you experience any issues with an item, we will help coordinate your warranty repair requests with the item's manufacturer. Product-specific warranty information, including coverage and duration information, is also available on most product pages. If you have any questions about the warranty for an item, please contact us.
How do I know how a product will fit or look in my room?
The dimensions of each item are given on the item's product page. If you are building out a room in your business, a Massage Tools product expert can assist with product selection and floor map designs. Below is an example.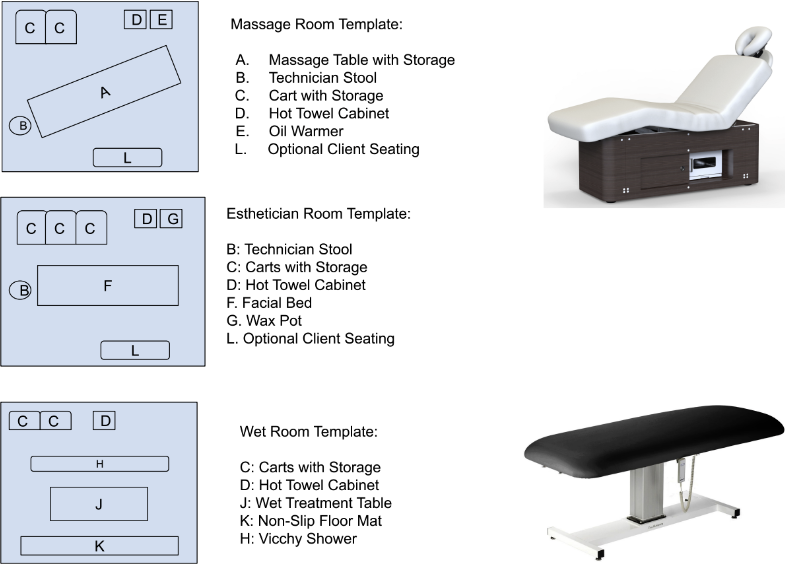 What if I can't find something I'm looking for?
Massage Tools is adding new products daily and we offer some items without a product page, such as replacement parts for massage tables and electric exam chairs. If you can't find what you're looking for, please contact us so we can help find a solution for you.
How does price matching work?
Massage Tools will match the shipped price before tax on identical items offered elsewhere. Please contact our sales team for a price match quote.
When will I receive my item?
Every product page has a delivery countdown clock that shows when you can expect to receive that product. Your order might contain several items with different estimated delivery dates, depending on each item's availability and whether it is carried in stock or made-to-order.
How does delivery work?
After you place your order, you will receive an order confirmation email. Additionally, every time an item in your order ships, you will receive a shipping confirmation email containing tracking information, which will provide an estimated delivery date on the tracking page. Items weighing more than 100 pounds, including most electric massage tables and medical exam chairs, ship via freight service. Please see the "Large Items Shipping Information" on the relevant product page for more details on freight delivery.